Saturday, Dec 1 7:30 pm
Christmas in the Barn - House Concert
Flesherton, ON
A food bank fund-raising concert in the most beautiful magical setting in Flesherton, Ontario.
All ARE WELCOME to attend this special night on the breathtaking property of Don Jack. A free will offering will be taken at the door for the local food bank. Don has just re-built a beautiful century barn on his property.  When I spoke with him on the phone this morning, he was out in the barn - hanging chandeliers!  Ok - this is my kind of party!  Lots of food, music and festive fun!

Sunday, Dec 2  6:00 pm ~ SOLD OUT
UPDATE: The December 2nd show at The Church Restaurant in Stratford is SOLD OUT. 

Annual Christmas Celebration Dinner & Concert 
The Church Restaurant, 70 Brunswick St, Stratford

Featuring Rick Francis - guitar
Don Reed - fiddle
Jim Wilde - piano
With special guest Jacob Moon 
Tickets $59 includes 3-course dinner, concert and all taxes and gratuities
Thank you to Treasures (Stratford) and Ticketwindow.ca.


Dec 6 - Dec 9
4 CITY ALBERTA CHRISTMAS TOUR with WORLD VISION CANADA!
Lacombe, Red Deer, Edmonton and Calgary - DETAILS BELOW…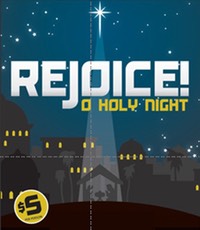 Lacombe – Thursday Dec 6 @ 7:30pm
Lacombe Pentecostal Church
40331 Range Road 27-1, Lacombe, AB
403-782-2966
Artists: Ali Mathews & ZERBIN
Speakers: Eric Samuel Timm
Cost - $5 all ticket sales go to support Cathedral Food Bank
Ticket Available at the church and also at:
Scott's Parables
37464 Highway 2 Red Deer, AB 403-342-7477
Also online www.ticketwindow.ca 1877-700-3130

Red Deer – Friday Dec 7 @ 7:30pm
Streams Christian Church
5350 46Ave, Red Deer, AB
403-342-7441
Artists: Ali Matthews & ZERBIN
Speakers: Eric Samuel Timm
Cost - Free Admission

Edmonton -Saturday, Dec 8 @6:30pm
The Church at South Edmonton
9908 67Ave, Edmonton, AB
Artists: Ali Matthews & ZERBIN
Speaker: Eric Samuel Timm
Cost - Free Admission 
Calgary- Sunday Dec 9 @ 7:00pm
RockPointe Church
255024 Lochend Road NW
403-851-0011
Artists: Ali Matthews & ZERBIN
Speaker: Eric Samuel Timm
Cost - $5 all Ticket sales go to support www.theseed.ca
Tickets available at the church and also:
Blessings Christian Market Place
8-1825 32Ave NE, Calgary, AB 403-291-3326
Also online: www.ticketwindow.ca 1877-700-3130
Monday, Dec 10

Christmas in the Square - TV Special recording featuring performances by Michelle Wright, Mark Masri, Jacob Moon, the Lovelocks, Mike Janzen and Tenore.  For tickets to be a part of the live studio audience at the Crossroads Centre, click here
Burlington, ON


Tuesday, Dec 11

Television taping for 100 Huntley Street (air date TBA) 
Burlington, ON


Wednesday, Dec 12

Private House Concert 
Mitchell, ON


Friday December 14  7:00 pm
Crossroads Centre - with JACOB MOON and MIKE JANZEN
Burlington, ON


Sunday December 16  9:00 and 11:00 am
Bayview Glen Church
Thornhill, ON


Sunday December 16  4:00 pm
North Toronto Community Church, 7 Eglinton Ave E
Toronto, ON


Friday Dec 21 7:00 pm

Registry Theatre - with Jacob Moon
Kitchener, ON


Saturday Dec 22 8:00 pm

Hugh's Room - with Jacob Moon and Mike Janzen
Toronto, ON


Sunday Dec 23  10:00 am

New Song Church, Port Perry Town Hall
Port Perry, ON


Sunday, Dec 24, 2 evening services times TBA

The Campus Church 
Auruora, ON


Sunday, Nov 4 am service
Rosebank Brethren in Christ Church 
Petersburg, ON


Wednesday, Nov 7

Crossroads Centre / CTS - GMA Covenant Awards
Nominee and performer 
Burlington, ON


Sunday, Nov 18 7:00 pm
St. Paul's Presbyterian Church 
Ingersol, ON


Tuesday, Nov 20

Compass Point Church - World Vision - This is Our Love Tour
Burlington, ON


Friday, Nov 23 8:00 pm

Trinity United Church
Gravenhurst, ON


Sunday, Oct 14, 10:30 am

All Saints Anglican Church - Morning Service
London, ON


Wednesday, Oct 31
World Vision Staff Chapel 
Private


Thursday, Sept 20, 6:30 pm
House Concert at the Tarcons 
Calgary, AB
 


Saturday Sept 22, 7:00 pm 

Stevenson Performing Arts Centre, H.J. Cody School
Sylvan Lake, AB 


Sunday Sept 23, 9 am and 11 am

Foothills Alliance Church 
Calgary, AB


Sunday, Sept 30, 10:30 am
Bendale Bible Chapel - Morning Service
Scarborough, ON


Friday, May 25 & 26 @7:30 pm
Catherine North Recording Studio - Jacob Moon "Landing": The 10th Anniversary Concert and CD, with special guests Ali Matthews & Rick Francis
Hamilton, ON