Friday, September 30th 7:00 pm (refreshments at 6:30)
Listowel Evangelical Missionary Church - Women's evening of Praise and Worship. Featuring Ali Matthews with pianist, Charlene Nafziger.
Listowel, ON


Saturday, October 1 @7:00 pm

North Street United Church - An evening of family music with my friends from the Lullaby Project 
Proceeds to Goderich Disaster Relief Fund
Goderich ON 


Sunday, October 9
Fair Haven Church - 2 Morning Services & Full Evening Concert 
Hudsonville, Michigan, USA


Saturday October 15
Burlington Performing Arts Centre - Concert with Jacob Moon
Burlington, ON


Saturday, October 22
House Concert - ALL Welcome! 
Summerland, BC 


Sunday, October 23 @7:00 pm
Smith & Co. Cafe
Penticton, BC
October 25-28
GMA Canada Music Conference - GMA Showcase with Sean Dayton, Jodi King, The Wiebes 
Calgary, AB


Friday, October 28
GMA Covenant Awards Gala ~ Featured Performer 
Up for 10 Awards this night!
Calgary, AB 


Saturday, October 29 @7:00 pm
St. Mary's & St. Timothy's Anglican Church
Sylvan Lake, AB


Sunday, October 30 @10:30 am Service
Canyon Creek Christian Fellowship
Calgary, AB


Sunday, October 30 @7:00 pm
First Church of the Nazarene - Concert with Tenore and Kevin Pauls
Calgary, AB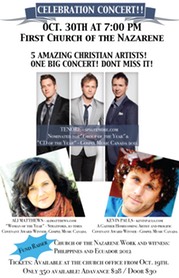 Saturday, November 5 @8:00 pm
North Park Community Church - Free Concert with Jacob Moon
London, ON


Friday, November 11 @7:30 pm
Cambridge, ON


Saturday, November 12 @7:00 pm
GracePoint Baptist Church
Toronto, ON


Sunday, November 13 @6:00 pm
Calvary Baptist Church
Oshawa ON


Sunday, November 27 @ 8:00 pm
The Church Restaurant - Annual Christmas Concert
Stratford, ON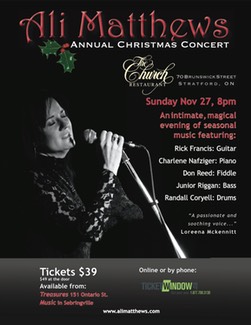 Thursday, December 8 @7:30 pm
The Roxy - Jacob Moon Welcome Christmas Tour with special guests Ali Matthews & Rick Francis
Acton, ON


Friday, December 9
Registry Theatre - Jacob Moon Welcome Christmas Tour with the Michael Schulte Strings and special guests Ali Matthews & Rick Francis
Kitchener, ON


Sunday, December 11
Emmanuel Baptist Church - 3 morning services 
Barrie, ON


Friday, December 16
Simcoe Manor - Christmas Concert
Sponsored by: Hillside Church, Tottenham, ON
Beeton, ON
Sunday, December 18 @3:00 & 7:30 pm
Burlington Performing Arts Centre - Jacob Moon Welcome Christmas Tour with the Michael Schulte Strings and special guests Ali Matthews & Rick Francis
TWO SHOWS: 3:00 pm & 7:30 pm
Friday, December 23 @8:30 pm
Hugh's Room - Christmas Concert with Jacob Moon
Toronto, ON